Juneau water heater services
Servicing Electric & Propane Water Heaters
Are you shivering through luke warm showers? Are you lacking the hot water necessary for doing all of the dishes or laundry? Your boiler or hot water heater should be providing plenty of warm water for your comfort and enjoyment. All American Home Service has what it takes to resolve your water heater troubles. We know that every day you wait for a plumber to arrive is another day that you are freezing and miserable. You can rely on us for prompt and professional water heater services in Juneau. Make sure you check out our reviews! In addition to our expert water heater services, we also provide professional general plumbing repairs!
Don't wait another minute! Call (907) 789-1800 right now to speak with a water heater maintenance or repair expert at All American Home Service.
Signs You Need Water Heater Replacement
Unfortunately, water heaters aren't meant to last for forever. As your water heater nears the end it's lifespan it's going to need more repairs more frequently, which will cost you more money. By replacing your water heater you will save yourself money in the long run by not having to continuously repair it. But, what are the signs for when you need to replace your water heater? Below we have 3 signs to look for on when to replace your water heater.
Age Of The Water Heater -
If your water heater is over ten years old, it's most likely going to need repairs often and it's going to cost you more on your utility bill as it runs less efficient than a newer water heater. After the ten years you have had your water heater, it's recommended that you start looking for a replacement.
Rusty Water -
If you notice that the water coming out of your kitchen or bathroom faucet has a red tinge or grey tinge to it, it's possible that your water heater has rust or sediment buildup inside of the hot water tank. Rusting will typically occur in old water heaters and will need to be replaced to keep your home's water clean.
Odd Noises -
As aging water heaters are constantly heating your home's water, sediment will inevitably buildup on the bottom of the tank. As the sediment gets harder and grows along the tank floor it can cause your water heater to make, "popping" noises. This can eventually lead to your tank leaking.
Does My Water Heater Need Maintenance?
Like any plumbing appliance, your boiler or water heater needs to undergo regular maintenance in order to ensure its proper operation and extend its lifespan. Generally speaking, it is recommended you have your water heater inspected and serviced by a professional once every year. Our water heater experts can inspect every aspect of your system and perform the necessary repairs to keep it working at its best.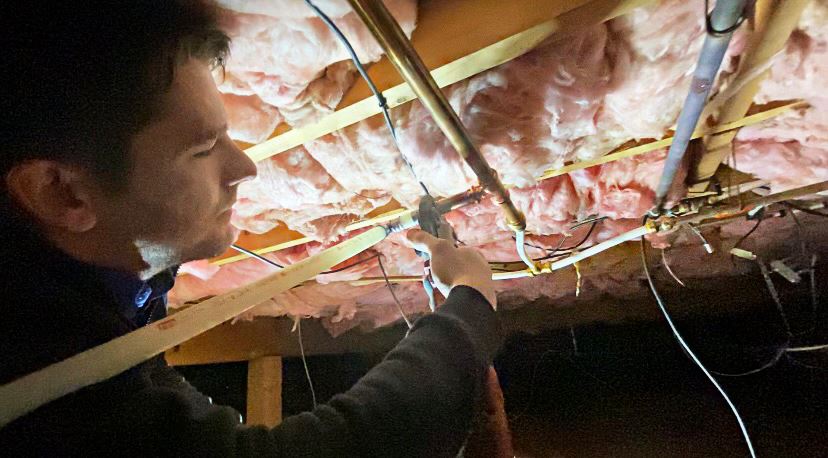 Basic maintenance for your water heater should include:
Checking the anode rod for corrosion
Testing the temperature-pressure-release valve
Flushing the tank and washing out sediment
Verifying that your unit is set to the correct temperature
Troubleshooting Your Water Heater
When your water heater breaks down, there are a few preliminary steps you can take to try and fix the problem.
For propane water heaters, we suggest that you:
Inspect the hot water gauge. Make sure that the hot water dial is set correctly. Sometimes, this dial is turned to a lower temperature, causing the water to remain cold.
For an electric hot water heater, we recommend you:
Check for leaks. If a pipe in your heater is leaking, it will affect the amount of water available and its temperature. Look for moisture around the heater or condensation on the pipes. See if there is any leaking from the bottom of the water heater.
Inspect your circuit breaker. Since these units run on electricity, a tripped circuit can affect their operation. Go to your circuit breaker box and make sure the switch connected to your unit is in the right position.
Wait 30 to 60 minutes and try again. If you had hot water for a significant amount of time and your shower suddenly turned cold, you may have simply used up all the hot water in your tank. You may just need to wait until the tank recovers.
When you need fast and effective water heater services in Juneau, turn to the trusted experts at All American Home Service. Contact us at (907) 789-1800 today!
OUR CUSTOMERS ARE OUR TOP PRIORITY
SEE WHAT THEY HAVE TO SAY ABOUT US
Great group, all in all. - Hali D.

Professional service. - Corey F.

Thanks for the service! - Joey P.

Punctual, professional, knowledgeable. - HS Thompson

I've used All-American Home Service for 7 years now! - Jessica S.

Very Pleased - Steven
learn why all american is the right choice for you!
Honest Pricing

We provide honest, upfront pricing to all customers - no hidden fees!

Customer Service

We put your best interest at the front of all we do to meet your needs.

Licensed & Insured

All of our experts are properly licensed so you receive the best service.

Family Owned & Operated

We care about our team, our community, and our customers.