Juneau Plumbing Repair
Resolving Your Problems Quickly & Efficiently
Whether your water heater is broken, your drain is clogged, your plumbing fixtures need fixing, or anything similar, turn to All American Home Service today. Since 2007, our expert plumbers have been providing prompt and professional plumbing repairs in Juneau and across the surrounding areas. As a result, we are deeply familiar with this line of work, and we know how to repair virtually any issue.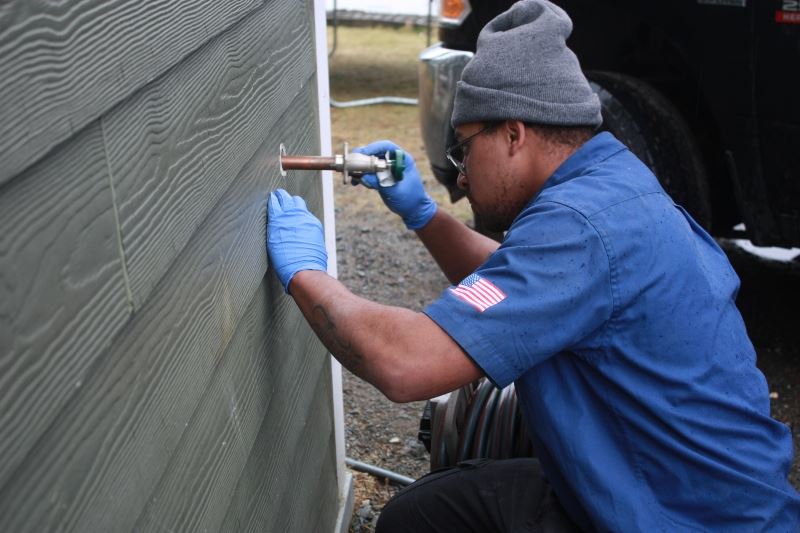 Our locally owned and operated company genuinely cares about our customers, and we will do everything possible to fulfill your needs. Using state-of-the-art equipment, we can accurately locate the source of your problem and effectively resolve it. We also understand that when you need repairs, you need them fast, which is why we are available after normal business hours and on weekends. You can count on us to be there for you when you need us most.
Call All American Home Service today at (907) 789-1800 or contact us online to schedule plumbing repairs in Juneau.
Signs You Need Plumbing Repair
There are several signs that indicate you may need plumbing repair in your home. Recognizing these signs early on can help prevent more significant issues and costly repairs down the line. Here are some common signs to watch out for:
Low water pressure: If you notice a significant drop in water pressure in your faucets or showerheads, it could be due to blockages, leaks, or pipe damage.

Slow or clogged drains: Drains that take a long time to empty or are frequently getting clogged may indicate a blockage in the pipes or a problem with the sewer line.

Dripping faucets: A continuously dripping faucet not only wastes water but can also indicate a worn-out washer or valve that needs replacement.

Water stains or damage: Water stains on walls, ceilings, or floors might indicate a leaky pipe or a plumbing issue behind the surface.

Unpleasant odors: Foul smells coming from drains, sinks, or toilets could be a sign of sewer line problems or a dried-out trap.

Running toilet: A toilet that keeps running even after flushing can waste a significant amount of water and may need repair or adjustment.

Noisy pipes: If you hear banging, clanging, or other strange noises when using your plumbing fixtures, it could be due to loose pipes or water hammer issues.

Leaky pipes: Puddles of water under sinks, around pipes, or in the basement are clear signs of a leak that requires immediate attention.

Mold or mildew growth: Excess moisture caused by plumbing leaks can lead to mold and mildew growth in various areas of your home.

High water bills: A sudden increase in your water bill without a corresponding increase in water usage could be a sign of an undetected leak.

Water temperature issues: If your water suddenly becomes too hot, too cold, or fluctuates erratically, there may be an issue with your water heater or plumbing system.

Toilet backups: If your toilet frequently overflows or struggles to flush properly, it could indicate a blockage in the toilet trap or the sewer line.
If you notice any of these signs, it's essential to take prompt action and contact a licensed plumber to inspect and address the problem. Ignoring plumbing issues can lead to further damage, water wastage, and potentially hazardous situations.
Committed to Our Customers' Comfort
Your plumbing system is vital to your home or business. You rely on it for taking showers, doing laundry, conducting everyday business operations, and more. That's why it is imperative you hire an expert plumber who is capable of fixing your issues in a timely and professional manner. All American Home Service is dedicated to providing our customers with the highest quality plumbing services possible. Our Juneau plumbing repair team are especially appreciative of military members, first responders, and law enforcement officers, which is why we offer a wide variety of discounts to them.
You should choose All American Home Service for your repairs because:
We offer upfront pricing
Our skilled plumbers are fully licensed, insured, and bonded
We have been serving customers throughout the community for over 15 years
Our company will work relentlessly to help you achieve all your plumbing goals
Call (907) 789-1800 to learn more about our plumbing repairs in Juneau.
OUR CUSTOMERS ARE OUR TOP PRIORITY
SEE WHAT THEY HAVE TO SAY ABOUT US
They responded and solved our problem without excess work. - Michael

Work was professionally and efficiently completed - Rick

I've used All-American Home Service for 7 years now! - Jessica S.

Very Pleased - Steven

All American came out the same day and did a very efficient repair. - Erin H.

Great group, all in all. - Hali D.
learn why all american is the right choice for you!
Honest Pricing

We provide honest, upfront pricing to all customers - no hidden fees!

Customer Service

We put your best interest at the front of all we do to meet your needs.

Licensed & Insured

All of our experts are properly licensed so you receive the best service.

Family Owned & Operated

We care about our team, our community, and our customers.