Juneau Duct Cleaning Service
Call Today to Improve Your Air Quality
How often do you think about your ducts? Once in a great while? Never? While many homeowners tend to forget that effective ductwork is an integral part of their heating system, the truth is you should have your ducts cleaned every 3-5 years. Dust and dirt particles, pet dander, secondhand smoke, bacteria, and mold can all get stuck in your ductwork over time, interfering with your heater's ability to do its job and affecting your home's indoor air quality. That's why at All American Home Service, we offer duct cleaning in Juneau at a great price.
All American Home Service is the only company in the area that offers duct cleaning. Because of this, there is a good chance you have never gotten your ducts cleaned—meaning they are probably pretty dirty! Most people assume that the biggest risks related to pollution lay outside. However, researchers have found that indoor air quality problems may have just as big of an impact on your health, making duct cleaning an important act of care for your whole family.
If you have noticed that your allergy symptoms or respiratory issues are more severe lately, or that your eyes are always itchy, or even that you feel tired most of the time, dirty ductwork could be to blame. Professional duct cleaning can take care of these problems, helping you to breathe easier and your heating system to run smoother—so you can actually lower your heating bills in the long run! Call our licensed and insured technicians today for Juneau duct cleaning service, and find out how better indoor air quality can improve your life.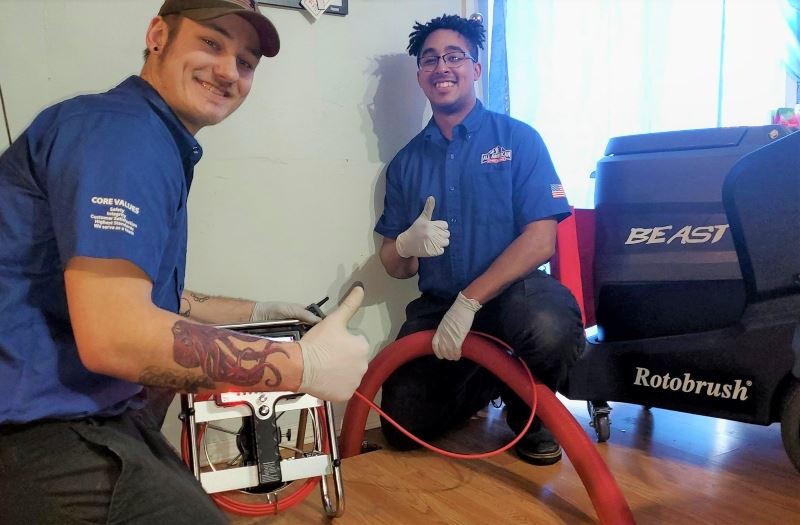 To schedule an appointment with our professional duct cleaners, call (907) 789-1800 now. We are offering $100 OFF to the first 30 callers!
Our Duct Cleaning Process
The Environmental Protection Agency (EPA) has recommended duct cleaning for the average American homeowner. Fortunately, our indoor climate experts at All American Home Service are equipped with the industry-leading tools and technology to ensure our duct cleanings meet the highest standards. Depending on how dirty your ducts are, the size of your heating system, and where your ductwork and heater are located in relation to one another, this can be a complicated process, and should only be performed by experienced professionals. The good news for you is our Juneau duct cleaning technicians are highly trained to deliver total satisfaction. Our team also guarantees your home will be completely clean by the time we finish our service process, and will always give you a comprehensive cost breakdown of our work.
When you call All American Home Service for duct cleaning in Juneau, we will:
Evaluate the condition of your ducts
Check to see if your ductwork is compatible with your heating system
Thoroughly remove all debris and contaminants
Use special cleaners to kill bacteria and mold
Offer suggestions to improve your indoor air quality in the future
Experience the Juneau Duct Cleaning Difference
There's no reason to put up with coughing, wheezing, and general breathing problems, especially when you've got All American Home Service on your side. Call now for available coupons and specials, including $100 off for our first 30 duct cleaning customers! All American Home Service is known across our community for upfront and honest work, so if you're looking for duct cleaning from an award-winning, family-owned heating business, we are are the company to hire.
Find out why customers have been coming back to All American Home Service for over a decade. You can contact us online to schedule an All American duct cleaning, or reach us by phone at (907) 789-1800.
OUR CUSTOMERS ARE OUR TOP PRIORITY
SEE WHAT THEY HAVE TO SAY ABOUT US
All American provides excellent service. - Lisa

I've used All-American Home Service for 7 years now! - Jessica S.

Punctual, professional, knowledgeable. - HS Thompson

Highly Recommend - Mike B.

Very Pleased - Steven
learn why all american is the right choice for you!
Honest Pricing

We provide honest, upfront pricing to all customers - no hidden fees!

Customer Service

We put your best interest at the front of all we do to meet your needs.

Licensed & Insured

All of our experts are properly licensed so you receive the best service.

Family Owned & Operated

We care about our team, our community, and our customers.